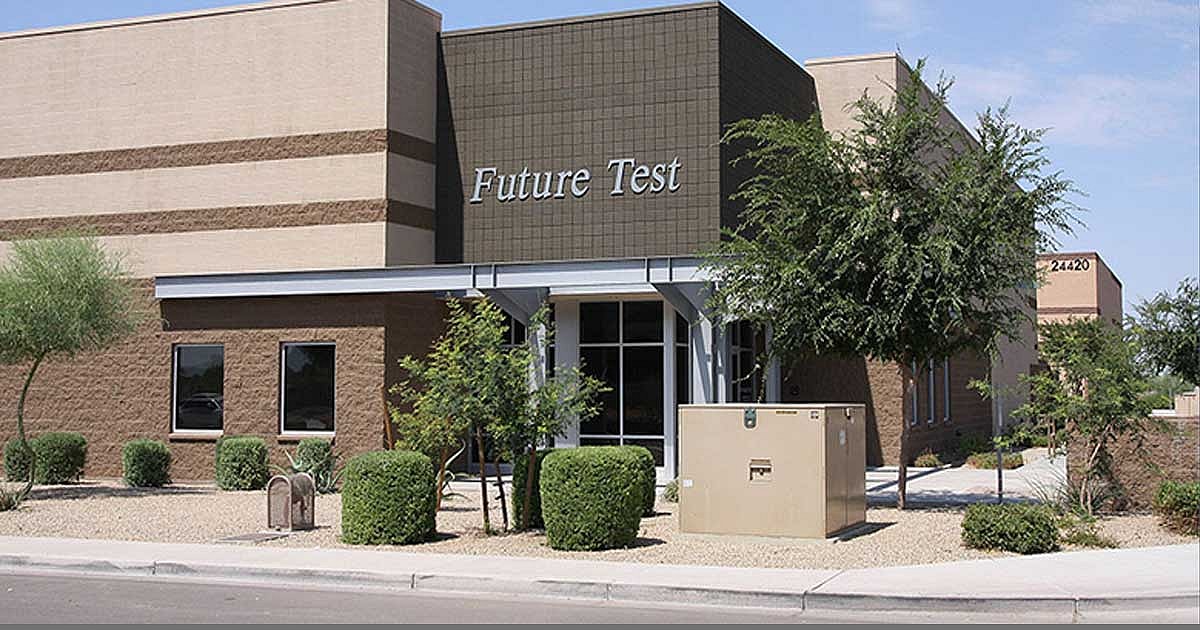 Fast Tracking your ROI by Producing More Parts, Not Setups
There's a lot to be said for flexing your creative muscles in manufacturing. Shop owners and machine operators alike can appreciate the situation of being presented a square peg and having to force it through a round hole – and still getting it done. Thinking outside the box can create great opportunities for a business – but it can also trap a company in a highly inefficient process. One company, sought to break that machining bottleneck and raise their ROI.
Acknowledging that problem, and investing into a proper solution, is critical to achieving long term success. A great example of this process can be found with our customer, Future Test.
Based in Phoenix, Arizona, Future Test setup shop in 1984 to provide test system integration for electronic devices. Featuring a broad range of capabilities, Future Test serves as a one-stop-shop for their customers. They provide expertise in functional testing, PCB and cable assembly, and a variety of machining services.
Having all these capabilities in-house allows Future Test to create thoroughly engineered turn-key products for their customers. But it was one of those turn-key projects that presented them with a major manufacturing dilemma.
Machining Bottleneck: A High-Pressure Problem
"We did a lot of work for a major medical company… a lot of full-on machines, manufacturing robots, from soup to nuts" says JD Wogoman, former Machine Shop Lead and Head Programmer for Future Test. "There was panel work that was too big for our four Haas VF-2SS's".
To get the job done, the team at Future Test had to get creative – outsourcing part of the work to ease the machining needs, but the solution was not without its drawbacks. "We'd pay this stupid amount of money for 'fine waterjet'. You had to pay an extra fee to have it go slow to get a better finish. Even when you got it back, you still had to throw it in a machine."
Along with the additional cost and minimal convenience of waterjet, Randy Kirchefer, Machinist at Future Test, noted other flaws with the process. "You never really know what you're going to get… and you're on a deadline… Most of our specs are +/- 0.005", and a lot of waterjets can't, or don't, hold that."
While the shortcomings of fine waterjet were annoying, the real issue was with setting up the parts on their Haas mills. Equipped with conventional tooling plates and toe clamps, each part required multiple setups to complete.
As JD recalled, "To build one machine, it would take 3 months… On an average day, I had 4 guys doing 6 setups a day. We didn't make parts, we made setups."
These problems quickly compounded, creating a significant backlog in the shop. Even after JD had optimized the shop's process to the fullest, they were still losing thousands each month to outsourcing costs and wasted machine time. While searching for a solution, Future Test's owner discovered DATRON, and brought it to JD's attention. "I really liked the gantry, I liked the work envelope size, and the spindle speed. So, we did our research… and we decided to make the purchase. We bought an M8."
Hit the Ground Running
Once the machine arrived in early 2014, Future Test was eager to get started. The machine setup was quick and painless, so training could start immediately. While JD was an experienced machinist, Randy was new to the trade, "When I started at Future Test about seven years ago, I had never even seen a CNC in person."
Luckily, this was less of an obstacle, and more of an opportunity for Chris Hopkins (DATRON's Director of Technology) to train a new user. "Chris is a cool guy. He helped us out and broke stuff down for us that we can understand… I was still new to machining at that point, I didn't get too much of the lingo."
Even for a veteran machinist like JD, Chris's efforts made for a smooth rollout. "It was very seamless. Chris was there three days, and realistically, he didn't even need to be there two. Before Chris left, I had a very good foundation to run (the machine)."
While a good installation is important, the support provided afterwards is even more critical – a point JD appreciated. "In the first few weeks, there were some questions… Anytime I reached out to DATRON, it was like 'Why do other people not do it this way?' This is the recipe. DATRON has the recipe."
JD recalled a standout moment when Chris provided a bit of custom programming to him the same day he requested it. "I'm like 'Oh my god, you just did that, and it would take me a month to get that from any other manufacturer, and you did it for me in twenty minutes, over the phone!'"
Getting Down to Business
With the team getting familiar with the M8, it quickly took over the panel work that plagued the VF-2SS's, while establishing itself as one of the most valuable machines in the shop. "The ROI was actually just under a year. We were creating more work, faster, more efficiently, cleaner, etc."
Randy also recognized the immediate improvement in job setup thanks to the vacuum table, "It's a faster process, and it's easier than loading a tooling plate into the mill… You don't really need any fixturing, and that helped us a lot."
The Icing on the Cake
The greatest benefits were not what JD had expected, however. "We bought it for the big panel work, and then we were like 'Why don't we try doing some other stuff on there?' Anything under 2 inches… Every machine had its own 24" x 36" tooling plate – we took all that work off the mills and put it on the DATRON."
"Everything that was flat, everything that we wanted to try, we tried on the DATRON just to see if it would work – and on most things, it did. We used it for a lot more stuff than what you expect. It was kind of crazy how much stuff we were doing on the mill, we could switch over to the DATRON." – Randy Kirchefer, Future Test
Other efficiencies were also realized thanks to the vacuum table on their M8. Randy noted, "It's a batch process. Instead of buying different stock, we just buy a sheet. We can knock out a bunch of first operations on the DATRON. I can make 20 to 50 at a time, and then it can go onto the mill for the secondary process."
With this massive improvement in machine workflow, JD noted a significant boost in efficiency. "I was doing 20 setups a day on the (DATRON)– prior to that, it would be 3-4 CNC mills running for a week or two, and I did it, by myself, on one machine, in 2 or 3 days – One guy. So, the other 3 or 4 guys are off doing the next work… We were able to start bringing more work in, it was crazy how much more."
In It For the Long Haul – No More Machining Bottleneck
The M8 continues to be Future Test's work horse, thanks in no small part to its tough industrial design. According to Randy, "It's reliable, we haven't really had any problems. The ones we have had, I can call, and it's definitely fixed right away. Everybody's been helpful."
JD's experience with DATRON left a lasting impression, even years after leaving Future Test. "How everything went from beginning to end with my time at Future Test, I just loved DATRON. I loved the people and the culture that was there."
"People care about you at DATRON… They really do care." – JD Wogoman, DATRON Dynamics
In fact, JD's experience with DATRON was so good, it changed his career forever. "So, when I was leaving Future Test, I knew I was ready for something different… I reached out to Chris, 'Hey! DATRON hiring?'" The story of how JD went from a CNC machinist to the newest member of our sales team is a good one, but we'll save it for another day.
If it's time to shatter your shop's machining bottleneck, and want some guidance, give us a call to see if we can help.
---
About DATRON Dynamics
High-Speed CNC machining is about more than a 60,000 RPM spindle-speed. When you're making small or complex parts, you need speed and precision at every stage. DATRON AG engineers didn't just invent a faster, more precise CNC machine – they optimized the entire machining workflow from start to finish.