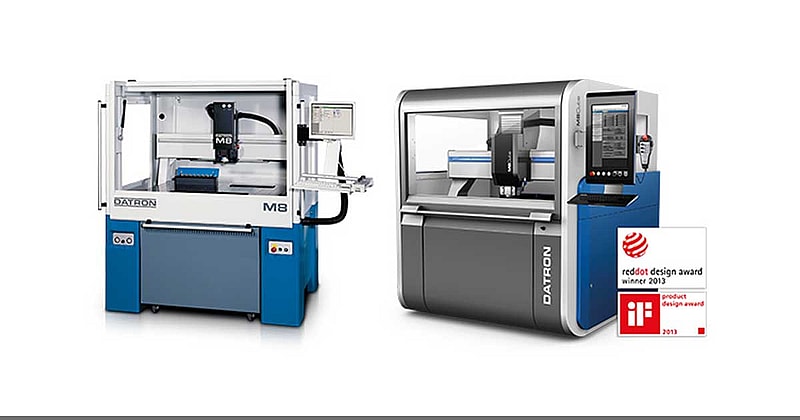 DATRON M8 versus DATRON M8Cube
For over 10 years, DATRON has had a very successful history with installations of their M8 gantry-style machining systems. This revolutionary machine had an install base of nearly 1,000 machines and was responsible for making DATRON an industry leader in high-speed cnc machining systems. DATRON's talented research and development team in Germany, in close cooperation with their install base of M8 customers developed a comprehensive wish list for the next generation of machines. In autumn of 2012, the introduction of the new M8Cube answered all the hard work of these collaborated efforts.
When the machine was first introduced to me in the summer of 2012, Matthias Reck, Director of Research and Development at DATRON AG told me, "We were successful at developing a machine with half as many parts, improved ergonomics, better accuracy, faster rapids and feed rates and that's structurally stronger than the prior M8 model". The main reasons for this achievement was changing to a new control system and using direct drive AC brushless motors. Additionally, the gantry was completely redesigned with a stronger Z Axis to secure larger horsepower, high-frequency spindles while providing more stiffness for the higher power drive motors. This achieved greater acceleration and deceleration rates producing faster cycle times. The stronger design along with the new control software allowed them to also develop an optimization filter they call "PerfectCut". This optional software function creates a powerful look-ahead combined with sophisticated algorithm calculations that can improve three- dimensional contour machining by as much as 30% compared to the previous control software. In some sample parts, cycle times were cut almost in half compared to the already impressive M8 cycle times.
Winner of the Red Dot award in 2013, this revolutionary new design not only had a new improved appearance but as well, an easier user interface for the operator. Improvements such as an elongated touch sensitive LCD panel for improved interaction and readability. Additionally, a chip-proof keypad located directly below the display offers better reliability and functionality. A more rugged and self-contained door, hinges upward without having the operator stepping backwards, like found on previous models. The cabin interior has more light to better see your work pieces. An integrated, three-color LED indirect lighting system for indicating machine status is built directly into the gantry that replaces the need for an external light stick. Vacuum ports molded directly into the polymeric table allow for quick and easy installation of modular vacuum tables. With thanks to our customers and design team, the new M8Cube is a much improved machine to use and operate.
The stronger, faster and more accurate M8Cube cnc machining system now has opened up many new applications that were not as attainable with the older M8 Model. Having the possibility for a heavier spindle and larger tool capacity with HSK tooling are two important factors for a broader market appeal. New applications in three-dimensional molds such as thermoforming, heavier and deeper machining operations found in electronic housings and tighter accuracies required in applications such as waveguides are a few examples that make the M8Cube a much more diverse solution in general machining facilities or job shops. Many existing M8 customers have added or replaced their older machines with the new M8Cube for the increased capabilities but more importantly, to reduce manufacturing costs from the faster cycle times and improved ease of use.
For me personally, I am very proud to be working with an organization that has such a strong commitment to research and development. This is the main reason why DATRON AG has been voted a "Top 100 Company" in Germany for innovation. An honor and recognition for this size of manufacturer in a leading country of machine tool producers is truly remarkable. The involvement of the existing M8 customer base along with the talented team of designers and engineers at DATRON have succeeded in making this next generation machine tool, the M8Cube cnc machining system, a monumental successor.
Bill King
President of DATRON Dynamics