Not even a year out of college, and I'm working for a CNC manufacturer and serve as an ambassador to a university makerspace??? Don't get me wrong, I'm both grateful and happy about this, but sometimes "I think, how did I get here?" Since I just returned from a meeting with that makerspace, I decided that I'd retrace my footsteps and blog about it for anyone who might find my path to this position an interesting story.
UNH InterOperability Lab (UNH IOL) is a university makerspace that encourages all students to think outside the box and test their entrepreneurial prowess.
So, how did I find my way to a University Makerspace and then a CNC Machine Company?
When applying to colleges during my senior of high school, like many other students, I found it difficult to create a vision of what my future would be like. I was unable to picture myself outside of the brick walls of my high school and the borders of my hometown. Since I'm a New Hampshire resident, I decided to apply to the University of New Hampshire's Peter T. Paul College of Business and Economics. Even though I didn't have a clear direction, I knew that a foundation in business would be useful in almost any pursuit.
I am forever grateful for UNH and the Paul College for accepting me into an incredible program that gave me the tools to become the professional business women I am today. In my senior year, I was looking for a second internship to wrap up my undergraduate education. An amazing opportunity in the marketing department of the UNH InterOperability Lab (UNH IOL), was presented to the marketing majors of Paul College. I jumped at the opportunity and successfully landed the position. The experience gained from the UNH IOL contributed to my qualifications and resulted in an offer to join the DATRON Dynamics, Inc. team as their Marketing Assistant after my graduation in May.
As an 18-year-old freshman back in 2013, if you told me that I would someday intern at an InterOperability Lab and then work for a CNC Milling Machine Distributor, I probably would have laughed in your face and definitely would have had a couple of questions. One, what does interoperability mean? And two, what is a CNC machine?
Why should a University Makerspace consider DATRON neo?
Yet, here I am and I have just returned from a visit to my alma mater and a meeting at the UNH IOL where they have just installed one of my company's CNC machines to add capabilities to the university makerspace. In fact, it's not just a machine, it is our newest machine, the DATRON neo, and one that has revolutionized the machining industry.
University Makerspace CNC Machine: The DATRON neo was added to the UNH InterOperability Lab (university makerspace) to add capability in and easy-to-learn format.
In fact, this machine is ideal for a makerspace and users who have no prior machining experience because it is entirely touch-screen controlled through app-based software kind of like using a smartphone. Aside from adding capabilities to the makerspace, we are confident that it will generate enthusiasm, spark innovation and add efficiency to the lab. Since this visit served sort of as a launch of the machine, our version of christening it (rather than smashing a bottle of champagne on the gantry) was to present the group with a custom longboard that was made on another one of our CNC machines, the M8Cube.
It was good to be back on campus at UNH and I am not surprised that UNH chose the DATRON neo to provide their students another resource to expand their knowledge and experience. This was an investment to broaden the educational borders of all UNH students. The university makerspace area is a student-run organization that offers inclusion and encourages all students – men and women – from all colleges and programs to come together to develop projects that are meaningful to them. The lab currently houses a laser cutter and engraver, 3D printers, a vinyl cutter, electronic tools and now, a DATRON neo. The entire DATRON team is excited for students to produce projects on the DATRON neo and to hear reports of how instrumental the machine has been in their projects.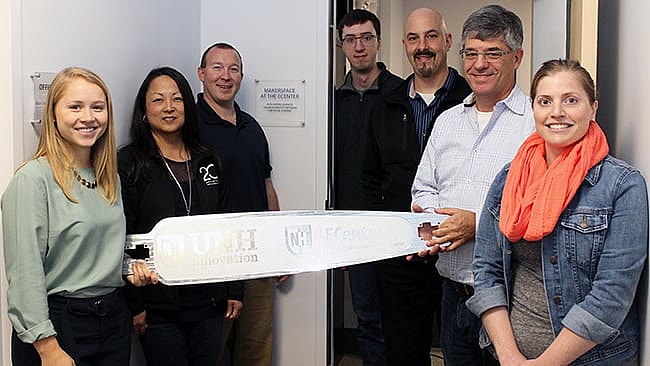 Get involved in a great University Makerspace at UNH
The final question you may have is, how can you get involved? No matter your college or your major, the university makerspace and its equipment is available to you. All students are encouraged to bring their educational or personal projects to the space to collaborate on solutions and ways to finish the projects effectively. You truly do not need a certain background to gain value out of using the machines. If you have an idea and you are driven, you are more than capable of learning how to use the machines, especially the DATRON neo. Check it out here: https://www.unh.edu/ecenter/makerspace