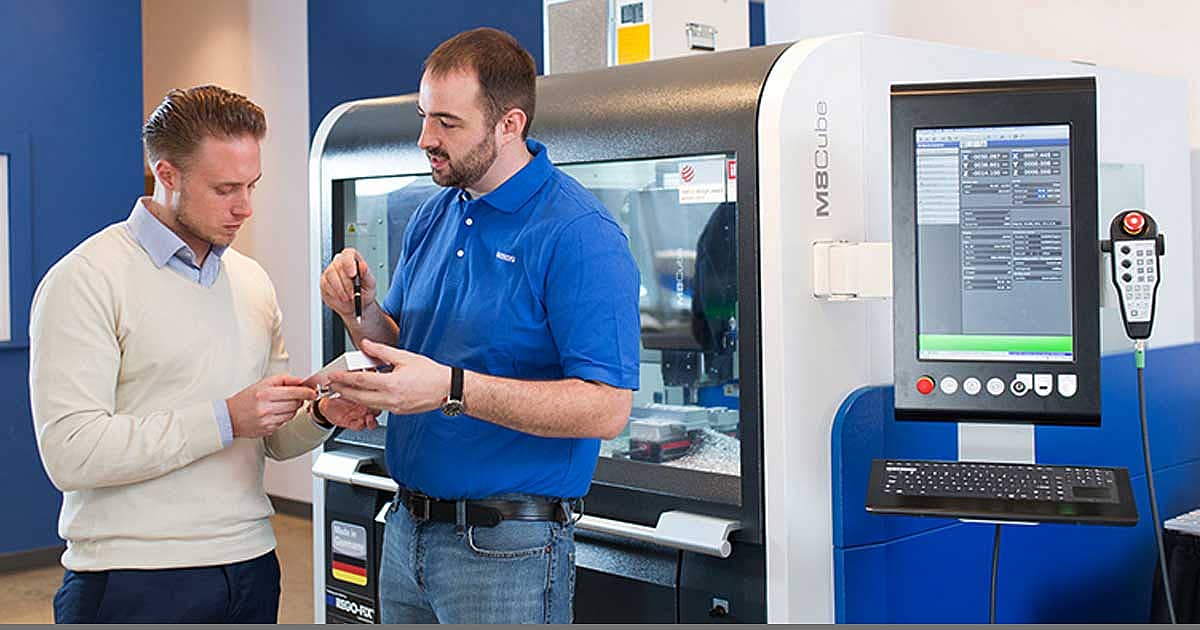 DATRON Optimizes Your Workflow From Start to Finish
When it comes to optimizing your CNC workflow from start to finish, DATRON has it down to a science. We've refined our processes and products to seamlessly support your operation's manufacturing ambitions, making it possible for anyone to make just about anything.
Here, we'll take you through each step of our next-generation CNC workflow and show you how it can improve your operation. Let's learn how boosting ease and efficiency is the key to supporting your business.
Check in with the CAM Assistant
In terms of ease and efficiency, DATRON machines will work with any brand of CAM software that outputs G-code. If you're unfamiliar, CAM software is used to apply a cutting tool path to a design and output G-code. The most popular choices among our users are Mastercam and Autodesk Fusion360, both of which feature fully developed post processors for a plug-and-play experience.
When it comes time to run the program, things can get complicated. That's why DATRON developed CAM Assistant which focuses on ease of functionality, proving particularly helpful for new users with functions like 3D toolpath simulation, cycle time estimate, and part setup.
Walking a new user through every step of setting up a part, the CAM Assistant is ideal for those who are unfamiliar with operating a CNC machine. From loading the program, setting up cutting tools, establishing the zero point with the touch probe and camera, and verifying with the simulation, CAM Assistant walks a user through part setup with ease.
This kind of real-time support, provided by user prompts, reduces on-boarding time with the machine and eliminates the need to watch a YouTube video or read through a confusing manual. What's more, the CAM Assistant also protects your investment, safeguarding against broken tools or probes due to user error.
Tools of the Trade
DATRON's tool library is organized and managed in a more visually appealing manner than most. Typical CNC controls feature tool libraries that are reminiscent of old-school data tables — hard to read and cluttered with convoluted information. For anyone who shops online (and in this day and age, who doesn't?), searching the library will feel familiar. With features like filters, users can isolate specific sizes or features to find where a tool is preloaded into the library, easing tool setup.
Naturally, this speeds up tool selection significantly, along with loading it into the tool changer. By taking the guesswork out of the equation, the user can avoid an accident and feel more confident in the simplified process we're providing.
A Lighter Load
Even loading material in the machine is optimized on a DATRON, our vacuum tables being a perfect example. With the ability to instantly secure sheet material without screws, tape, or gaskets, no other workholding can compare in terms of speed or ease.
In addition to being quick and easy to use, our vacuum workholding solutions are simple to setup. Instead of a traditional T-slot table, we utilize our conical grid system, allowing for quick and repeatable installation of fixturing without the need to realign to the machine axis.
The takeaway here, once again, is time savings for our end users. Additional time can be saved with the pneumatically driven clamping systems on our conical alignment system, which remain straight and true from one use to the next.
On the more traditional side, our mechanical vice utilizes the previously mentioned conical system for painless setup. As well, they include big aluminum soft jaws, which can be machined to fit contoured shapes for more complex workholding.
The result really is a one-stop shop. We typically provide everything an end user would need, thus simplifying the process and saving anyone from having to source their own workholding.
Leverage Location with Precision
Among the most significant advantages to using the DATRON next control on any of our machines is the ability to quickly register a part with the probe.
Of course, traditional machines have probes available, but only DATRON features a setup camera. By using the camera to complement the probe, the need to input numerical data when setting up the part is eliminated. Instead, one can simply drag and draw on the screen for whatever feature they want to probe.
This setup step is critically important when it comes to the CNC machine learning curve. Specifically, probing and origin setup is critical to get right, but so very easy to get wrong. The camera we've integrated has made part probing far more approachable, effectively flattening the learning curve for new users.
Even advanced users who are totally comfortable and confident using a CNC machine reap the benefits of the camera, because it allows for quicker job setup. Regardless of ability and experience, the support our camera provides benefits everyone.
Support for Surface Consistency
In addition to the ability to precisely indicate for the user, the DATRON probe can also compensate for irregularities and reduce scrap rate. While other probes function similarly, our probing system features a surface profile option that surveys the material topography, compensating for uneven thickness in order to maintain a consistent depth.
Let's say you were engraving a front panel and discovered an inconsistency over the entire part by 0.010". Subsequently, some of your engraving work would be too deep and some too shallow. The surface profile function solves this, after plotting out the surface, the result is consistent and uniform depth. Of course, setting up this feature is simple, once again, thanks to the camera.
A Quick and Confident Start
As soon as you start running the machine, you immediately access benefits from using the high-speed spindle, evaporative coolant, and tailored workholding–all of which should inspire confidence in your process.
On top of that, using cutting tools designed to work with your DATRON means you don't need to worry about compatibility with the equipment. Between our approachable, user-friendly, and comprehensive control, the machine is functional, stable, and reliable. This inspires our end users to feel capable, confident, and in control.
Clean Removal Yields Maximum Output
One upside to using spray mist evaporative coolant: machines remain very clean. That's a portion of why we rely on it in our solutions; parts come straight out of the machine looking fresh and burr-free. This is all thanks to well-engineered cutting tools. Rejected parts are reduced simply because of how well our systems are engineered – thus returning high part yields.
Users can be assured that whatever they put in will result in a good amount of parts put out because of our tailored workholding, cutting tools, and overall machine precision.
Our vacuum workholding allows for a large batch of parts on the table, which are then easily harvested compared to other machines. As well, since work envelopes are rather large for their footprint, it's easy to load a lot of parts in the machine at once for a longer run and higher yield — yet another time-saver.
Speedier Shipping for a Robust ROI
Since the finished parts require no degreasing and are burr-free, this cuts down on time spent hand finishing, boosting your return on investment. Ideally, any machine is going to save you money in the long run, but ours will do so immediately by providing faster production that is easier to learn, resulting in the speedier delivery of parts. Another advantage with DATRON, users get high-productivity without sacrificing a lot of floorspace — freeing up room for more equipment.
Our People
By partnering with DATRON Dynamics, end users are supported by experienced Applications Engineers and responsive Service Techs that are just a phone call away. We devote ourselves to our customers by supporting their investment in us. That's why we offer technical support, free of charge — with very few exceptions.
At the end of the day, we want our customers to be happy and are eager to ensure their satisfaction with our products and service.