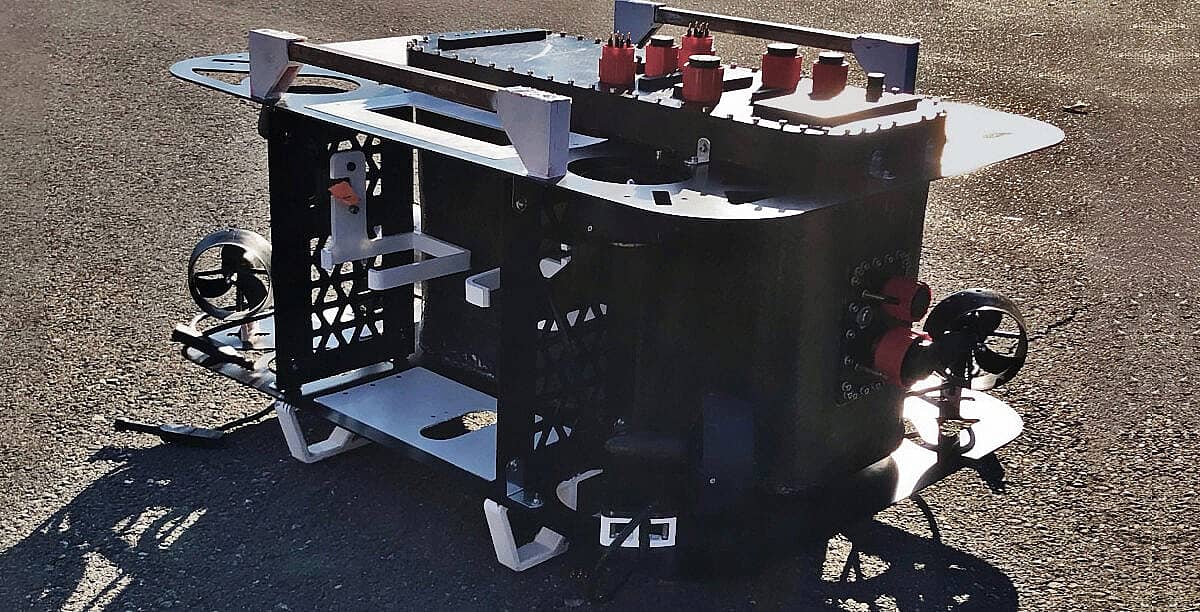 This blog was updated in August 2022, to announce the grand results of RoboSub 2022. AVBotz placed 2nd out of 39 teams in the Autonomy Challenge. We are so proud of the team's hard work and determination!
Robotic Submarines and DATRON Dynamics: The Story of AVBotz
The future of autonomous underwater vehicles (AUVs) is being shaped by robotics teams like AVBotz at Amador Valley High School, in Pleasanton, California. Founded in 1999, the mission of the AVBotz organization is to introduce students to the wide world of robotics. Each year, students compete at RoboSub, an international robotic submarine competition. RoboSub challenges both collegiate and high teams from around the globe. Their robots are put to the test by completing different tasks like passing through gates, manipulating buoys, identifying colors and shapes, launching projectiles, and more. These tasks are inspired by current research in autonomous underwater systems. The competition theme changes each year in order to push the limits of innovation and imagination from competing students. AVBotz likes to make use of their outstanding engineering skills, so they actually design their AUV from scratch.
AVBotz is recognized as one of the best performing high school teams, with their Barracuda model taking 7th place and ranking the highest scored run at the 2015 competition. However, it's not just about placing well at RoboSub for the students, they are committed to sharing their knowledge and experience with others. For instance, they have over 35,000 lines of open-source code available on GitHub to promote collaboration between other robotic clubs. The students are very involved with their community, inspiring younger generations to participate in STEM studies and clubs. They've taught coding and robotics workshops and even hosted a virtual computer-building workshop. The team members also mentor the robotics club at Harvest Park Middle School.
How It All Started
AVBotz's partnership with DATRON Dynamics began in 2015. Former team member Brody West, and his peers, found themselves in "deep water" with their new build. It was the team's first time figuring out the AUV design and how to make it. They had no idea where to find resources and didn't even have technical advisors yet. Since the robot needed to operate underwater, the parts must be precise, or it's game over. Given that many of the parts (like end caps and side panels) had to be watertight, they needed a CNC machine for that level of accuracy. So, Brody began researching local CNC machine shops capable of creating the parts they needed for their robotic submarine design. Brody visited machine shops all over town looking for team sponsors but had no luck…until a listing for DATRON Dynamics popped up.
Chris Hopkins, the Director of Technology at DATRON Dynamics, remembers Brody reaching out that year and was eager to help those students out. Chris didn't just want to make parts and ship them off though. He wanted to help them learn how DATRON technology works, so they would understand how the parts were made. So, Brody and some team members visited the DATRON office in Livermore, California to see the CNC machines in action. Brody remembers his first impression of the DATRON machines, thinking they were clean and sleek. Like "the Apple of CNC machines."
Gearing Up For RoboSub
While the team prepared for the upcoming competition, Chris provided mentorship for all CNC-related items and became the team's first (and only) technical advisor. He showed AVBotz how to take a design file and turn it into a finished project. The students designed their parts in CAD/CAM, and Chris reviewed the files and milled the parts on one of the DATRON machines. Brody recalls how ambitious and hard-working his fellow students were during that build. They spent every weekend and every day in the summer working on their robot. Brody remembers when he wasn't in class, he was working on the autonomous underwater vehicle build.
The team really wanted to win, and their hard work paid off, as their AUV ended up beating out a bunch of universities at RoboSub! That was the last competition for Brody since he graduated from high school and moved on to MIT. After being a part of AVBotz for four years, his experience with the team and the competitions reinforced his desire to join the engineering field.
DATRON Dynamics knows that programs like AVBotz are vital to the future of engineering and manufacturing, and that's why we are happy to support them. Plus, our team really enjoys working on the autonomous underwater vehicle parts! To this day, Chris and our team continue to support AVBotz and mentor its members. Some of the students stay in touch with Chris and let him know he helped them find their career path. Chris says there is nothing more rewarding than hearing that from a student.