The ATF mandates that firearm serial numbers are engraved, cast or stamped on a gun frame or receiver in a manner that is not susceptible to being obliterated. The current required depth of engraving for a gun serial number is 0.003" in a print size no smaller than 1/16 inch. Other gun markings such as model number, caliber or gauge, logo, manufacturer name and country of origin must also be engraved on the gun at a depth of 0.003". Because no two guns can carry the same serial number, licensed gun manufacturers are obliged to record and track every gun produced and therefore, all gun marking or gun engraving performed at their facility, as well as the location of engraved gun parts. This blog discusses 3 different gun marking techniques, as well as the features that benefit quality control.
1) Roll Marking Guns
Let's begin with roll marking. Where this process is concerned, whether or not it is able to achieve the required depth of gun marking (and it can) is almost irrelevant. That's because the quality of the marking is, in my opinion, just not what I'd want on a gun that I bought for hundreds or thousands of dollars. In the case of gun marking or serialization, the roll marking process uses a round die with sharp alphanumeric characters that are rolled over the gun part, thereby pressing the serial number into the gun, squeezing and displacing metal in order to produce an impression. The fact is, these marks are not crisp and clean because the edges of each character contain remnants or "recast" of the metal that was displaced from impression.
2) Laser Marking Guns
Laser machines, on the other hand, produce decent quality gun markings. The downside for laser is depth. The ATF mandated firearm engraving depth of 0.003" is pushing the limits of laser technology.  That's because the deeper the "cut" the more the light begins to bend. This is akin to runout in the machining world and the results are unsatisfactory for many gun manufacturers.
3) Engraving Guns with a High Speed Milling Machine
Smith & Wesson, for example, uses a high-speed machining center to go above and beyond the ATF guidelines engraving guns such as the M&P at a depth of 0.005". This practice positions Smith & Wesson for the future in the event that the ATF imposes stricter requirements for gun serial number depth.
Engraving gun serial numbers and branding such as logos with a high speed CNC milling machine (or machining center) produces crisp clean edges at a depth that satisfies ATF requirements. As mentioned above, quality gun marking can even be milled at depths that exceed those requirements. Additionally, machining centers like DATRON high speed milling machines offer integrated features and robust functionality that benefit gun manufacturers in regards to speed (cycle time), quality, reduced waste, lean manufacturing, and part recording and tracking. Using Smith & Wesson's M&P line of handguns as an example, here's how it works. This line requires engraving on 3 different handgun slides used for various models. Since these slides are used for a range of calibers, there are up to 7 variations. Smith & Wesson practices lean manufacturing using "single unit pull" – so as orders are received, the required parts are engraved.
With DATRON's probing used for part referencing and identification, an operator simply selects the appropriate slide and places it the high speed milling machine – fixing it in a rotary indexer used to rotate the part and part fixture in order to engrave both sides. The probe then scans the slide and determines part definition (part type), and pulls the appropriate sub-program to engrave specific markings and part numbers. This way, even in a worst case scenario, when an operator sets up the wrong blank, the DATRON machine still produces a high quality, usable gun part. The measurement obtained through the initial probing also serves as the first step in maintaining a consistent .005" engraving depth. The surface topography data of each handgun slide is fed into the control software which automatically compensates for any surface irregularities before engraving begins. With this technology, an even depth of engraving can also be maintained on curved or rounded gun parts like gun barrels.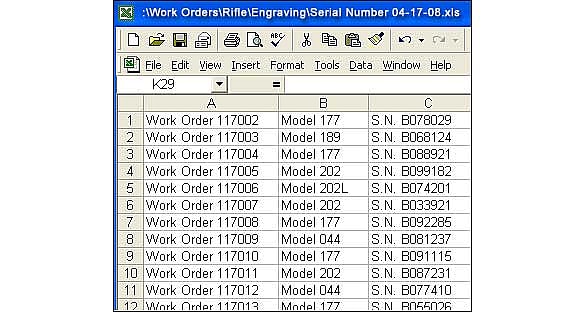 Once a gun part is engraved, the DATRON machining center has the ability to record the information in the manufacturer's database. Using a Dynamic Link Library (DLL) customized and linked to manufacturer's IT system, automated reports are sent from the CNC machine to ensure proper production documentation for tracking purposes. This also eliminates the risk of serial number duplication. Firearm Engraving Process Summary:
Part enters machine, machine automatically checks which part is there and probes for surface variances
Machine control selects program for that part and surface variance is compensated for in machining data
Appropriate sequential serial number, logos and other gun markings is engraved
Consistent depth is maintained … even on rounded surfaces
Machine checks to make sure serial number is present and has an even depth before removing part
Part production is recorded and tracked in database
Samples of Gun Engraving with a CNC Milling Machine:
For most gun owners, the purchase of a gun is a decision that deserves some research and scrutiny with regards to quality and performance. Knowing this, gun manufacturers invest incredible amounts of money promoting their brand. The word "brand" is derived from the branding or marking on the product itself. So, it's only logical that gun manufacturers want their logo or "brand" to appear in its best form on the gun to in order convey quality. In other words, aesthetics count. The samples below, show the crisp clean quality of gun logos engraved with a high speed CNC milling machine featuring a 40,000 – 60,000 RPM spindle.
As mentioned throughout this blog, the depth of gun serial numbers is regulated by the ATF, and therefore, the quality of serial number marking is not as much about aesthetics as it is about satisfying government mandates. High speed CNC milling machines provide the greatest accuracy and depth of engraving as illustrated by the samples below.

Since the ATF is consistent in their specification for an engraving depth of 0.003" on other gun markings like the place of origin (manufacturer location), caliber, gauge and model number, logically, gun manufacturers want to consolidate all engraving into a single process to save time and money. The Smith & Wesson M&P handgun slides below were engraved on a DATRON high speed milling machine equipped with a rotary indexer used to flip the part so that both sides could be engraved in a single set up. This automation eliminates operator intervention associated with manual setup for engraving on each side of the gun.